I recently interviewed children's book illustrator Veronica Miller Jamison about her amazing creative shift, and how she got her first book deal with Little, Brown.
After spending nearly an hour discussing her career leading up to the book, I finally asked, "How was the book launch?" She replied:
"A lot of anxiety. In the middle of doing this book, I got diagnosed with depression and anxiety. The book was my bright spot."
Veronica opened up more about how the book launch created a deeply fulfilling experience for her. Often, writers and illustrators hope that with publication, their creative work will reach thousands of strangers. In doing so, this attention validates their craft, raises their profile as a writer or artist, and releases that sense of impostor's syndrome that so many of us deal with.
But Veronica said something different: "What was amazing was to see the people who came out to support me." She described friends, family, and co-workers, including those she hasn't seen for years who came to her book reading. "Seeing my community appear in front of me to support my work, was overwhelming and makes me choke up right now to think about it."
This is what so many writers overlook: their own community that they have spent a lifetime creating. Too often, they can't see the forest for the trees. They compartmentalize every relationship they ever made as "former co-worker" or "former classmate" and don't realize that these are people who know you, and care about what you create. These are the people who may just show up for you in your big moment of celebration around your writing.
Instead, many writers want the recognition of strangers. The result? They hide their writing from those around them. They don't tell family, friends, or coworkers about what they create. When someone in their daily lives asks how they are doing — one of their kids' friend's parents, the barista they see every day, the other 10 members of the PTA committee they sit on — they never mention their writing.
They justify that "these people aren't readers," or "they don't read my genre," or "they don't have kids, and my book is a kid's book."
But these people may want to support you if you give them a chance.
Early success with developing your audience is often about connecting people to your work, and perhaps even to each other. Often, that may begin with who you know already: friends, family and coworkers past and present. Why? Because these are the people who will drive an hour, in the rain, on a busy Thursday night to support you at your book launch.
Again and again in Veronica's career, she talks about the value of not just knowledge and information, but of connection to others. She talked about the critical importance of forging connections with like-minded creators, and how that has led to her success in multiple industries.
My full interview with Veronica Miller Jamison is absolutely inspiring. You can listen to it on the web, Apple Podcast, or Spotify here.
This reminds me of a blog post I wrote in early 2013, titled: "Focus on the people, not just the ideas and information." I shared my experience of attending a large publishing conference in New York City. Of course, there were amazing keynote speakers, insightful presentations, and neat innovations shared at the event. But this was the highlight for me: shoved into a booth at Shake Shack, eating lunch with Cory Doctorow, Stephanie Anderson, and Rachel Fershleiser: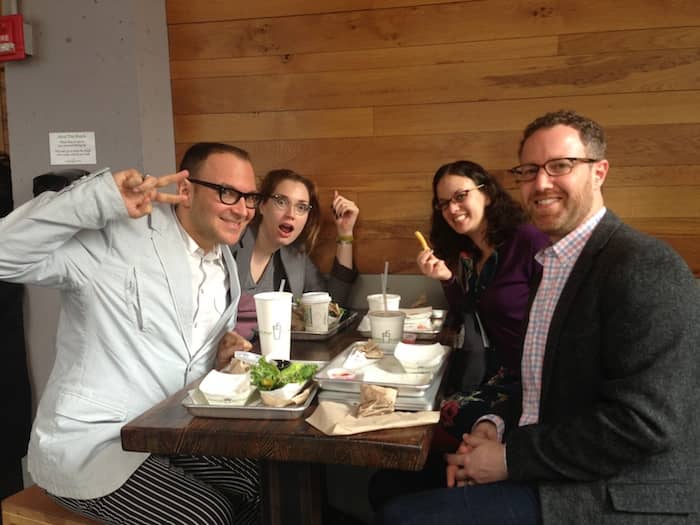 It was a conversation around books, reading, libraries, interaction, community. Too many people attend events keeping quietly to themselves and taking notes. Luckily for me, not these people. Cory is a famous author, Rachel at the time was working at Tumblr, and Stephanie had been managing an amazing bookstore and moving into the library world.
And it was completely unplanned and unbelievably amazing. I believe I had spoken on a panel with Rachel and Stephanie, and I asked if they wanted to skip the conference provided box lunch to get some real food. As we were deciding where to go, Cory was near us, so I said something nice to him about his presentation. As we chatted, we invited him to lunch, and were thrilled when he decided to join us.
This moment was such a reminder to be present. To focus on strengthening the connections to those around you. To take risks to make connections with other people.
And of course, to always do that with good food!
Thanks.
-Dan